Karen's Cake Corner
by Karen Hill
May 11th 2020
Previous recipes by Karen can be found here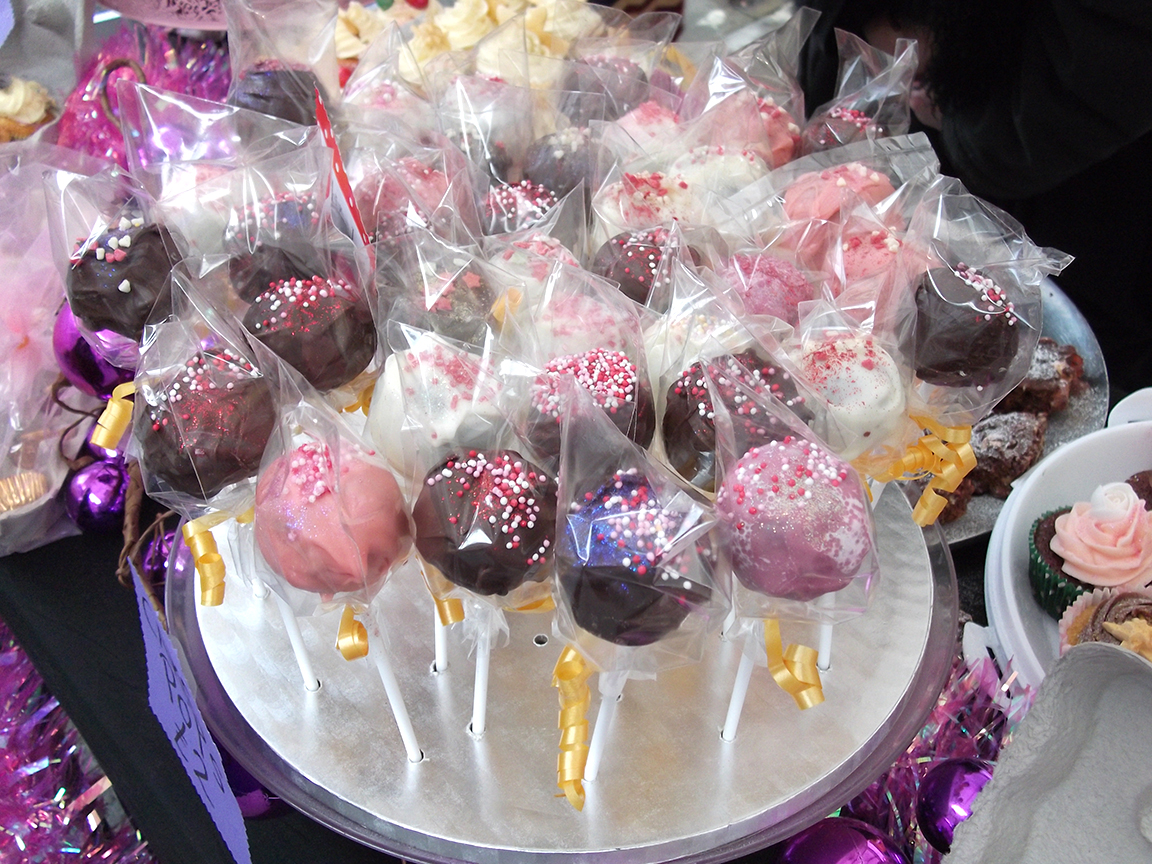 Firstly Happy New Year to everyone. Following on from my Chocolate Cake recipe, which I hope you enjoyed, I thought I would share my recipe for Cake Pops. I predict these will be very popular this year. They look delightful and taste just as good. My Cake Pops have proved to be enormously popular for friends, family and especially good for childrens birthday parties. They are also a great way of using up leftover cake!
Cake Pops (Makes 17-20 depending on size of balls)
Ingredients
1 Karens Chocolate Cake recipe, featured in the last issue (you can cheat and buy 1 moist chocolate cake)
1 tub Betty Crockers chocolate fudge icing
Decoration
Lollipop sticks
1 14oz/397g pack Wilton dark or white chocolate Candy Melts (you can use chocolate if desired but I find Candy Melts easier to work with)
Edible glitter, decorative sparkles, chopped nuts or coloured sugars
Styrofoam
1. Firstly, make your cake and allow to completely cool.
2. Crumble your cake (or shop-bought cake) into a large bowl. You can use any flavour cake you desire. Work the cake until it is entirely crumbled.
3. Mix the cake crumbs together with approx. two thirds of the fudge topping. The exact amount of topping required will depend upon the moistness of the cake. The mixture should be fairly moist to easily hold itself together when you shape it into a ball.
4. Roll the cake into balls roughly 2" in diameter and place on a baking sheet lined with greaseproof paper. You should have approx. 17-20. Place in the fridge to harden.
5. Whilst you are waiting for the cake balls to harden, melt the candy coating in a microwave according to pack instructions and stir until melted and smooth.
6. Remove cake balls from the fridge. Using the lollipop stick make a hole, dip the stick in the melted coating and place into the hole you have made. The coating will help hold the stick in the cake pop.
7. You can either dip the cake pops into the coating or I find it easier to smooth the coating onto the cake pop with a teaspoon. Then sprinkle with decoration of your choice. I use edible glitter, decorative sprinkles or coloured sugars. Stick the cake pops into Styrofoam to allow to set. You can place them onto a lined baking sheet, but they will have a flat top.
8. Once the coating or chocolate has set, they are now ready to eat. Enjoy!
These cake pops are really unique and taste delicious.