Karen's Cake Corner
by Karen Hill
September 10th 2020, Issue 100
Previous recipes by Karen can be found here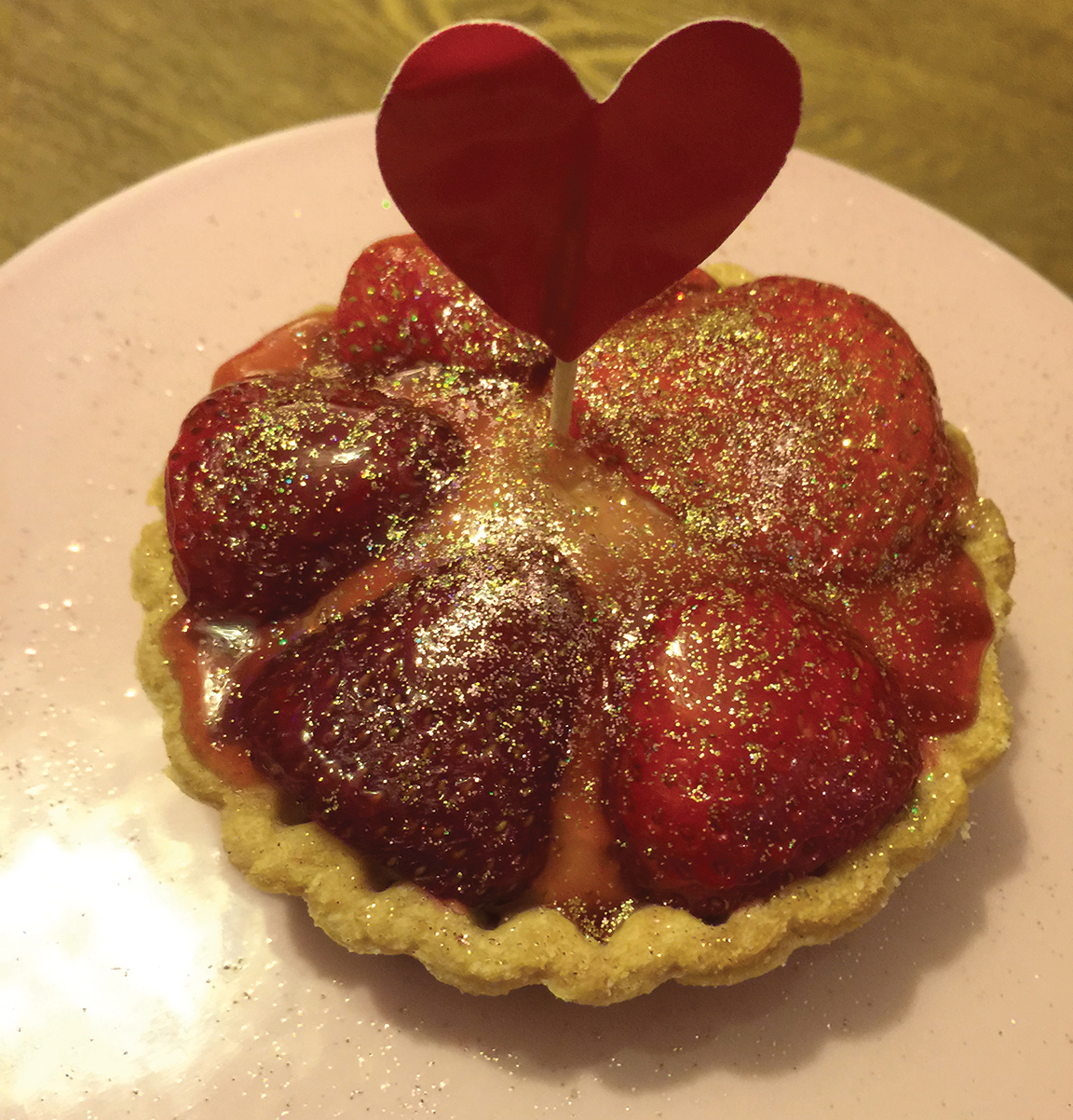 Strawberry Tarts
I recently cooked a special meal for my husband, so wanted to bake him his favourite dessert. I don't often make pastry, but these are my husband's favourite so I made an exception. With the combination of pastry, vanilla crème patisserie and strawberries, they are delicious and easy to make!
For the Sweet Pastry
225g plain flour
110g unsalted butter
80g sugar
1 free range egg, beaten
For the Creme Patisserie
2 free range eggs
30g caster sugar
1 tsps corn flour
15g plain flour
140 ml milk
Vanilla pod
Strawberries
Small amount of strawberry jam to glaze
Icing sugar to dust and edible glitter if required!
This recipe will make four tartlets. Firstly make your pastry. Rub the butter and flour together using your fingertips until it resembles bread crumbs. Add the beaten egg and sugar and bring together to form a ball of pastry. Wrap in cling film and chill for at least 15 mins.
Next make your Creme Patisserie. Whisk the egg yolks together with the sugar in a bowl until light and pale. Fold in the corn flour and plain flour. Bring the milk to the boil and then gradually whisk into the egg mixture. Pour the mixture into a clean pan and slowly bring it to the boil stirring until it thickens. Simmer for a minute and then take the pan off the heat. Split the vanilla pod in half lengthways and scrape out the seeds, adding them to the mixture. Cover with cling film and allow to cool.
Preheat the oven to 170˚C. Now it is time to roll out the pastry to approximately 4mm thick. Carefully line the four tartlet tins, leaving an over hang of pastry. Place on a baking tray and chill for about 15 minutes. Blind bake the pastry cases for ten minutes and then turn down your oven to 160˚C. Remove the baking beans and prick the pastry with a fork and cook for a further 10 minutes. Then egg wash the tarts and cook for a further 5 minutes. Remove from the oven and allow the pastry to cool.
With a small serrated knife, trim the excess pastry from the tins, being very careful. Now you can fill your tartlets with your cooled crème patisserie. This can be piped into your tartlets. Slice your strawberries in half and arrange on top of the crème patisserie. To get that lovely shiny glaze, simply melt a little strawberry jam with a splash of water and then brush the top of your tartlet. Dust with icing sugar and a little edible glitter if required. I hope you enjoy these as much as my husband does.