Let The Voice Be With You
by Les Humphries of Rocester
May 26th 2020
Previous articles by Les Humphries can be found here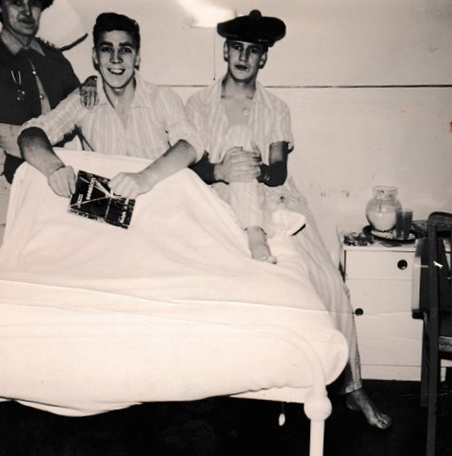 Well readers, still in lockdown at time of writing, and it looks like it could well remain for some time yet, which took my mind back to a previous 'pandemic', (although the word hadn't been invented yet!).
At the time I was a Boy Soldier, stationed at Denbury Camp near Newton Abbot in South Devon, when the Country was stricken down with a virus called Asian Flu (I wish they'd keep their viruses to themselves!) We were located 3 miles out of town and when the virus hit the camp we were immediately put into lockdown.
It spread through the camp like wildfire, and our M I Room, (Medical Centre), was nowhere near big enough to cope with the increasing numbers of lads going sick with extremely high temperatures feeling weak and giddy. So as the casualties increased two huge Nissen huts* on each edge of the camp, one being a gymnasium, were brought into service as temporary hospital accommodation. Medics from the Royal Army Medical Corps were drafted in to look after us, bearing in mind that the majority of the Soldiers in the camp were under 18, the medics were of course adults. Each batch of casualties had their own couple of medics looking after them, and when I finally seccumbed having at first thought I was immune, my group had a great corporal in the RAMC, sadly whose name I can no longer remember, as our senior NCO in charge, and with whom we had a great rapport.
When our temperatures had decreased sufficiently, we were allowed to get up and walk around, but only in the confines of the Nisson Hut. If the days were warm enough they would open the big sliding doors which enabled us to look at the outside World, that being the Tors of Dartmoor in the distance. Incidentally Colonel Gregory of our Regiment invented the Ten Tors competition which still exists today, but I digress. As there was no personal isolation like keeping your distance from one another, normal duties throughout the camp continued.
On a particularly sunny day as I stood in my pyjamas gazing out and enjoying some fresh air, when the Corps of Drums, although depleted, having just marched off the parade square, came to the halt about twenty feet away on the road.
Normally I would have been with them, because although we all trained as soldiers in the day time, in the evenings you had to have a hobby, and I had chosen the band as my hobby. We rehearsed two evenings a week, and played for the Regiment on the parades which took place every Saturday Morning, known as Trooping Rehearsals. At the time I was leading tipper on the Drums, and one of the lads spotted me in my pyjamas. Well that did it! all discipline went out of the window as a tirade of abuse such as "Get out here you skiving b..... " was aimed in my direction, to which I returned the customary two fingered salute in reply as they marched away.
The pandemic lasted for several months as I remember, and having had it didn't make you immune, as some of the early casualties went down with a second dose before it was cleared. Thankfully we had no fatalities in the camp, and although there were some deaths there were nowhere near as many as this current epidemic which is really frightening.
Some years later I suffered a serious bout of Rheumatic Fever whilst serving in Germany, which was to eventually end my Military Career such as it was. After a long spell in Hospital in Germany I was flown home to the UK, and taken to Tidworth Military Hospital in the West Country prior to being moved to Millbank in London so I could be near home. I was duly tucked up in a bed in Tidworth, when an NCO was sent to get my details, and guess what? It was the same corporal who had looked after me when I had the Asian Flu at Denbury, although he was now a Sergeant. A big grin spread over his face when he saw me and his first words were "Not you a F.... ' gen. It's a small world!
All those memories we have tucked away, some happy, some sad, that no one can ever take away from us, and if I survive this pandemic it will be another memory to file away for future reference, hopefully not to make the same mistakes next time. Meanwhile, stay safe.
Note: A Nissen hut is a tunnel shaped hut made from corrugated steel sheets with a concrete floor.
TTFN Les...
Tribute to SIR Captain Tom
Whilst shut away inside our homes, amid this Covid mess,
One Gentleman put us all to shame, raising funds for NHS.
I refer of course to Captain Tom, who walked for miles and miles,
Raising thousands – for the cause- and also loads of smiles.
One Hundred Years he's been on earth, proving along the way,
That Old Soldiers never die – they only fade away!
No fading yet for Captain Tom, he is an inspiration,
Unlike some others in the News – two fingers to the Nation!
Visiting friends, or partying, they didn't give a toss,
Some of them have lost their jobs, THEY won't be any loss.
Most of us have towed the line at Government insistence,
And when we're able to emerge, we keep a social distance.
But let's get back to Captain Tom, the hero of the Nation,
Who walked, and walked, for many days, whilst we were on vacation!
And all the while the Captain walked, the virus it did thrive,
Hospital Staff, lives on the line, were keeping folk alive.
But now he'll get his just reward, as the memory lingers on,
The Queen will get her sword and say - "Arise SIR Captain Tom!"