Let The Voice Be With You
by Les Humphries of Rocester
July 30th 2020, Issue 99
Well Readers, it's wonderful to be back in print again after being online since April, due to the Corona Virus, and of course you still have the online option if you wish as well.
I know the majority of us have played by the rules and stuck to our isolation, but of course there have been the exceptions, with idiots going out in force, holding demo's, street parties and flooding to the beach at the first opportunity without a thought about spreading their germs. However, the editor has asked me to stay off my soap box, and to look at the positive
Well there's not a lot to write about having been in isolation for so long (still am) and had little excitement apart from "What's on Netflix" or "What's for dinner tonight?" which drives Sandra mad, but she's conjured up some wonderful dishes and we've eaten like kings. So I've been here, putting on weight until I look like Orson Welles, can't fasten my trousers, and with my shirts hiding my paunch to such a degree that I look as if I'm wearing a maternity smock with them dangling over my trousers (my shirts that is!) Somebody did ask me if I was expecting, and I said yes and I don't even know who the mother is! Sandra did find an item of clothing that still fitted, it was a chiffon scarf!
We, or rather Sandra, order shopping online now that the idiots have stopped buying all the bog rolls etc, and our lovely granddaughter Stacey shops for us every Friday, as she has all through the pandemic, now just getting the bits and bobs we've forgotten.
We did venture on our first sortie into town on the 11th of July to go to the chemist to get my viagra because I was fed up with rolling out of bed (joke), seriously to get any medication we needed. We both wore our masks, which gave us a communication programme due to Sandra's hearing impediment, she couldn't hear a word I was saying. Also my ruddy specs steamed up until I couldn't see where I was going, and I dare not wipe them for fear of putting germs on them. One laugh I did have was when I spoke to an old chum from JCB - "Hi Chris" I shouted, to which he replied "Who the f*** are you?"
Uttoxeter Rugby Club are into pre-season training, but at time of writing no physical stuff yet such as scrummaging. After the Club's promotion to Division 2, make no mistake, it's going to be a hard slog next season, it's a huge step up for a little club like Uttoxeter, so the lads will need a lot of belief. With Nigel Hall moving on after his excellent work over the past two seasons, coaching will now be in the hands of Jordan Hales assisted by Donald Hayes, the latter returning after a short time elsewhere. Donald's vast experience, combined with Jordan's coaching ability should put the club into even better shape. Donald's eldest boy Tom switched from fly half to Lock for the town side last Season, and what a revelation! We also welcome back outside half Lewis Bain, which will be a terrific addition to an already talented back division.
Other than Nigel Hall, the same officials will be in place for another season. Paul Bain (father of Lewis) will continue as President' having been a mainstay of the club for a number of years, during which he has formed an excellent bond with Chairman Nigel Titterton, who is of course also the Editor of this great magazine. He has also been a pal of mine for more years than I care to remember (even though he muzzles me quite a lot!) I won't go through all the other officials, except to mention skipper Jake Cabrera, who will be in charge ON the pitch. The first match will be played against Crewe at Oldfields whenever that may be!
The Denstone Players had obviously to cancel all their plans for this Year, but it is hoped that they may be able to put on a Variety Show sometime in the New Year, Covid permitting of course.
Likewise the Royal British Legion had to put all their plans for VE Day etc; on the back burner. What will happen about poppy selling this year, let alone Remembrance Sunday in November?
All of St. Michael's Church functions in Rocester, as well as All Saints in Denstone, have been lost this year. Fetes, Summer Fairs, Carnivals all lost sadly. Sunday Services from Rocester can still be joined in with, live on facebook, but the Church is now open for attendance if you so wish. I attended last Sunday, and all precautions have been taken. Masks are optional, but everyone is well separated. It makes for a strange atmosphere, but it is nice to see all your old friends again.
I'll close by paying tribute to our wonderful frontliners in the NHS, thank you all so much, and to Captain Tom - well done Sir Tom you deserve it.
TTFN - Les...
---
June 5th 2020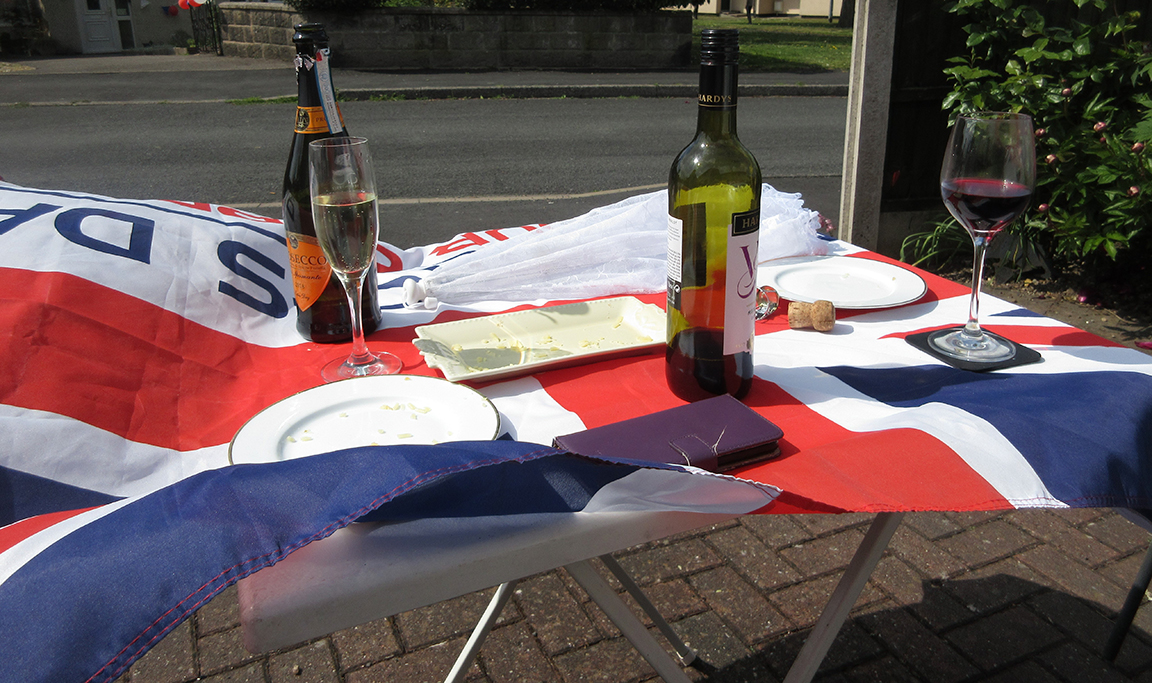 Well readers, another month gone by, and the Covid virus is still with us. At time of writing the relaxing of the lockdown has caused more than a little confusion as to who can do what and to whom!
Schools re-opened, but only for certain groups, and even then at the parents' discretion. Some people went totally mad as our little Village of Rocester was completely overwhelmed by families from Lord knows where, parking in the streets, on pavements, and grass verges so that they could either sit by the JCB Lake and have a picnic or just walk around. Thankfully we were spared the barbeques that caused so much damage on Cannock Chase the same week-end, and what happened to social distancing as youngsters went swimming in the river?
We have reporters on television harassing Dominic Cummings (yes he should have resigned out of decency) but there were the paparazzi like a pack of jackals, climbing over one another to get a photo, which was an even worse breach than the one they were decrying.
Sandra and I will remain cautious for the foreseeable future as we are both in the danger area, and I know a lot of our friends are of the same mind. We do have a quiet walk around the lake early in the morning, only passing the odd person or persons with the same idea, get away before the rush! Of course there are the fishermen out in force, but they don't even answer if you throw them a cheery 'Good morning!'
A lady doctor on television said that it could cause mental problems in children going back to school because of social distancing, as they wouldn't understand. Well in my humble experience of children, having two of my own, four grandchildren, and three great grandchildren, I have always found youngsters very resilient and quick to adapt. We as parents and grandparents worry more than they do. The doctor also said that she feared with social distancing etc: it would kill the art of conversation. Well madam, I hate to tell you but the art of conversation died with the introduction of mobile phones.
As a Tour Guide I come into contact with people of all ages, and have some great trips with older groups, sharing my knowledge with theirs, having a laugh and hopefully giving them a memorable experience. However take a group of teenagers round and with rare exceptions, I and my colleagues find it very hard to get any rapport. At the outset of the tour you ask them to turn off their mobile phones, and in many cases its like turning off their life! When you return to the Visitor Centre at the end of the tour and tell them they may turn their mobiles back on it's, heads down, click, click, click
Anyway not much else to moan about this month. We had some great fun on VE Day with street parties in our own front gardens, our road was well decked out with flags and bunting. We have had a great turnout on Thursday's clapping for the NHS (now finished) and I feel it's brought our street together. We have a Virtual Church Service (if that's the right description) from St. Michael's vicarage - well orchestrated by the Rev. Liz Jones and husband Terry at 10.30 every Sunday, and anyone can join in, which is the closest we can get to our regular congregation.
Anyway folks, keep reading 'The Voice' online, be sensible, make the best you can within the rules, and above all stay safe.
---
May 26th 2020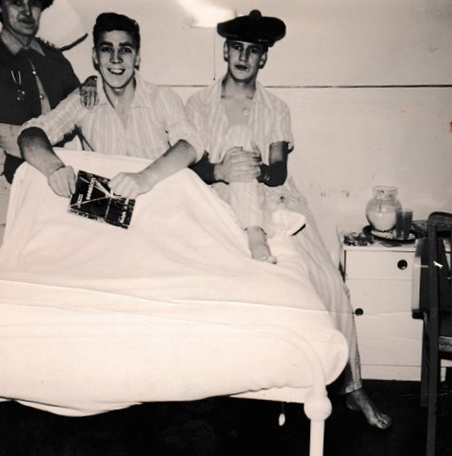 Well readers, still in lockdown at time of writing, and it looks like it could well remain for some time yet, which took my mind back to a previous 'pandemic', (although the word hadn't been invented yet!).
At the time I was a Boy Soldier, stationed at Denbury Camp near Newton Abbot in South Devon, when the Country was stricken down with a virus called Asian Flu (I wish they'd keep their viruses to themselves!) We were located 3 miles out of town and when the virus hit the camp we were immediately put into lockdown.
It spread through the camp like wildfire, and our M I Room, (Medical Centre), was nowhere near big enough to cope with the increasing numbers of lads going sick with extremely high temperatures feeling weak and giddy. So as the casualties increased two huge Nissen huts* on each edge of the camp, one being a gymnasium, were brought into service as temporary hospital accommodation. Medics from the Royal Army Medical Corps were drafted in to look after us, bearing in mind that the majority of the Soldiers in the camp were under 18, the medics were of course adults. Each batch of casualties had their own couple of medics looking after them, and when I finally seccumbed having at first thought I was immune, my group had a great corporal in the RAMC, sadly whose name I can no longer remember, as our senior NCO in charge, and with whom we had a great rapport.
When our temperatures had decreased sufficiently, we were allowed to get up and walk around, but only in the confines of the Nisson Hut. If the days were warm enough they would open the big sliding doors which enabled us to look at the outside World, that being the Tors of Dartmoor in the distance. Incidentally Colonel Gregory of our Regiment invented the Ten Tors competition which still exists today, but I digress. As there was no personal isolation like keeping your distance from one another, normal duties throughout the camp continued.
On a particularly sunny day as I stood in my pyjamas gazing out and enjoying some fresh air, when the Corps of Drums, although depleted, having just marched off the parade square, came to the halt about twenty feet away on the road.
Normally I would have been with them, because although we all trained as soldiers in the day time, in the evenings you had to have a hobby, and I had chosen the band as my hobby. We rehearsed two evenings a week, and played for the Regiment on the parades which took place every Saturday Morning, known as Trooping Rehearsals. At the time I was leading tipper on the Drums, and one of the lads spotted me in my pyjamas. Well that did it! all discipline went out of the window as a tirade of abuse such as "Get out here you skiving b..... " was aimed in my direction, to which I returned the customary two fingered salute in reply as they marched away.
The pandemic lasted for several months as I remember, and having had it didn't make you immune, as some of the early casualties went down with a second dose before it was cleared. Thankfully we had no fatalities in the camp, and although there were some deaths there were nowhere near as many as this current epidemic which is really frightening.
Some years later I suffered a serious bout of Rheumatic Fever whilst serving in Germany, which was to eventually end my Military Career such as it was. After a long spell in Hospital in Germany I was flown home to the UK, and taken to Tidworth Military Hospital in the West Country prior to being moved to Millbank in London so I could be near home. I was duly tucked up in a bed in Tidworth, when an NCO was sent to get my details, and guess what? It was the same corporal who had looked after me when I had the Asian Flu at Denbury, although he was now a Sergeant. A big grin spread over his face when he saw me and his first words were "Not you a F.... ' gen. It's a small world!
All those memories we have tucked away, some happy, some sad, that no one can ever take away from us, and if I survive this pandemic it will be another memory to file away for future reference, hopefully not to make the same mistakes next time. Meanwhile, stay safe.
Note: A Nissen hut is a tunnel shaped hut made from corrugated steel sheets with a concrete floor.
TTFN Les...
Tribute to SIR Captain Tom
Whilst shut away inside our homes, amid this Covid mess,
One Gentleman put us all to shame, raising funds for NHS.
I refer of course to Captain Tom, who walked for miles and miles,
Raising thousands – for the cause- and also loads of smiles.
One Hundred Years he's been on earth, proving along the way,
That Old Soldiers never die – they only fade away!
No fading yet for Captain Tom, he is an inspiration,
Unlike some others in the News – two fingers to the Nation!
Visiting friends, or partying, they didn't give a toss,
Some of them have lost their jobs, THEY won't be any loss.
Most of us have towed the line at Government insistence,
And when we're able to emerge, we keep a social distance.
But let's get back to Captain Tom, the hero of the Nation,
Who walked, and walked, for many days, whilst we were on vacation!
And all the while the Captain walked, the virus it did thrive,
Hospital Staff, lives on the line, were keeping folk alive.
But now he'll get his just reward, as the memory lingers on,
The Queen will get her sword and say - "Arise SIR Captain Tom!"
---
May 11th 2020
Do you know something, since the lockdown started I see more of my neighbours than I have for years, the reason? - like the rest of the Country, we are all out clapping for our wonderful NHS at 8pm every Thursday. What a fantastic job they are doing on the frontline, and always do without any plaudits, as Prime Minister Boris Johnson has found out at first hand. We all shout to one another, and there is such a wonderful Community spirit I only wish I could bottle it......
I also salute our refuse collectors, another group under-appreciated, and I could draw up an unending list of people helping to pull us through this crisis, not seeking any reward, just being loyal caring citizens. I must give a special mention of course to Centenarian Captain Tom, walking his way to millions of pounds for the NHS, what a man!
It always annoys me the way that Labour Politicians, (as they did with Brexit, and lost an election as a result) instead of putting politics behind them and helping to end the crisis, just keep harping on about what the Government aren't doing, or should have done, asking silly unanswerable question in the forums, backed up by a certain Newspaper who never look at the positive side. It's like when I go to a rugby match, if everything on the pitch doesn't quite go to plan, everyone on the touchline could always have done better than the lads on the pitch. But where politicians are concerned, it's all about gaining political points. We know the Tories have not got everything right, but some of the arguments put forward by the opposition are ludicrous to say the least. I'm sorry guys, but you'll need to do better than this to win me back, and I know I'm not alone with those thoughts.
At the minute we are watching a lot of tele, doing some gardening, (no excuse now the brown bins are back on the collection list), or just sitting in the garden with a glass of beer watching the Missus do the work, whilst improving the tan (weather's been lovely). We have a Virtual Church Service from the Vicarage of St. Michael's in Rocester, with the Rev. Liz Jones and husband Terry every Sunday Morning at 10:30 (actually it's 10:32 as Liz's clock is always two minutes slow. It always strikes at 2 minutes past 11 every Sunday during the Service!). Lay reader Sue Hutchinson also provides other Church offerings during the week.
Like myself I'm sure the other members of the Denstone Players are at a loose end, no shows, mean no rehearsals. Plus all the official VE Day plans are also on hold, maybe both Denstone and Rocester will put some belated celebrations into practise when the Country finally rids itself of Covid 19, not being helped on its way by President Trump's nutty solutions. I think a strait jacket being in order!
While the shutdown is on and Voice editions are online only, our Editor Nigel Titterton is doing his bit by giving FREE space to our loyal Advertisers and businesses helping the community. My wife and I even got a free lunch from JCB last Tuesday, which happens every day for the needy and the pensioners I understand. But well done Nige, this is the reason that 'The Voice' is rated as the No.1 free magazine in the area, because it cares about the community.
Stay safe and keep sanitising (Sandra even sanitises my newspaper so it looks like it's been in the Churnet by the time I get it!).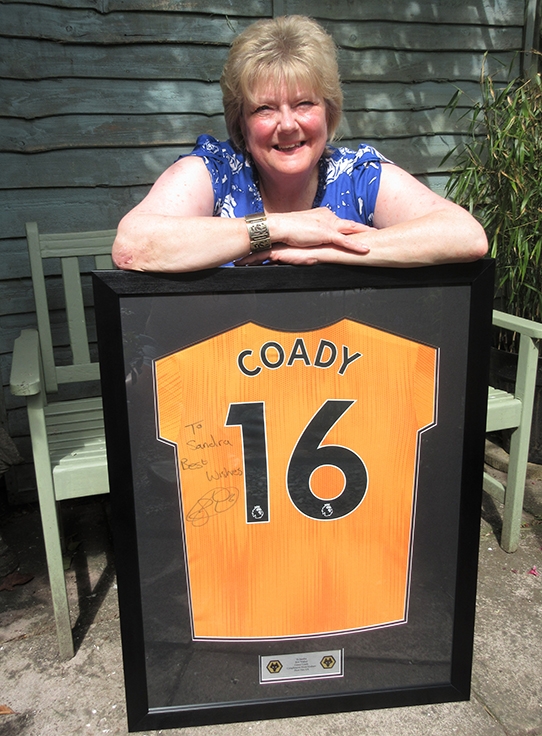 You know readers, life is full of surprises, some good, some not so good, so here's a good story for you which started over a year ago whilst I was on duty for JCB. I was approached by a very friendly gentleman, who said "You've been doing this job a few years now haven't you Les? "Just a few!" I replied which started our first real conversation, which has since sparked a friendship.
It transpired his name was Graham Jones, and he was Managing Director of Plant Hire UK Ltd, based on Merseyside, and through our sales people brings lots of customers to the JCB factory on visits. I can't remember how it came about, but somewhere along the way I mentioned that my wife Sandra was an avid Wolverhampton Wanderers supporter, and before she met me had been to many home matches since her teens, (she even dragged me, a died in the wool Rugby man, along on one occasion) "That's a coincidence" said Graham," Their skipper Conor Coady is a big friend of mine, he originates from Merseyside, and his mum still cleans for me!" He then produced his mobile and showed me some lovely pictures of Conor and his wife and family including his very attractive Mum. "Could you get me an autograph for the missus?" I asked. "I'll do better than that, I'll get you a souvenir," said Graham.
Since that conversation took place he has brought visitors to the factory on tours several times, and on a couple of occasions I was his tour guide, but no souvenir materialised, although he always assured me it would come. I last spoke to Graham at Cheltenham a week before the lockdown when he put his arm round my shoulder and said "I've not forgotten!" I honestly thought no more about it after I arrived home, then suddenly after 8 weeks isolation, one afternoon the doorbell rang, and there was a very old friend from JCB now based on Merseyside, stood there with a framed Wolves shirt bearing Coady's name and signed ' To Sandra' with his autograph - all arranged by Graham...
Sandra, was gobsmacked and flabbergasted or as another Merseyside - Doddy, would have said "Discomknockerated". What a brilliant surprise for my lovely wife to brighten up our isolation in these troubled times we are living in. Many thanks to Conor and especially Graham, and I still haven't worked out why a football star's mum still carries on cleaning? Perhaps it's because Graham is such nice guy...
Stay safe everyone - T T F N Les...
---
April 23rd 2020
St Georges Day
The Patron Saint of England, St. George, was born in Cappadocia now in Turkey and was beheaded before the city walls of Nicomedia on 23rd April 303 AD. After his execution his body was returned to Lydda now known as Lod in Israel. The 23rd April is traditionally the date on which his Feast Day is celebrated in England.
His tomb can be found in the Church of St. George which belongs to the Greek Orthodox faith. The present church was constructed around his tomb in 1872.
St. George rose through the ranks of the Roman army and became an Imperial Legate in the Praetorian Guard. He resigned his commission in the military as a protest against his pagan leader Emperor Diocletian (245---313 AD) who instigated Rome's persecution of the early Christians.
Diocletian's wife Prisca is sometimes confused with Alexandra of Rome. Alexandra converted to Christianity and was witness to the torture of St. George prior to his execution. She was concerned that St. George would not be able to baptise her into Christianity after she had confessed her faith to him. Even though being tortured St. George uttered these words to her; "Do not fear, for your blood will baptise you." She suffered summary execution after her confession to St. George.
Before the cult was brought back to England from the 12th century Crusades, England's Patron Saint was St. Edmund. St. Edmund was killed in 869 or 870 by The 'Great Heathen Army' of Vikings led by Ivar the Boneless and his brother Ubba. St. Edmund was martyred because he would not renounce his Christian faith. St. Edmund is also the Patron Saint of Scouting and pandemics. He is venerated as a Saint when a pandemic strikes!
The flag of St. George is a red cross on a white background and was adopted by Richard the Lionheart. He brought the emblem back to England from the Crusades in the 12th century and from then onwards it was emblazoned on the tunics of English Knights and soldiers. It aided the identification of English Knights and soldiers when in battle.
Aside from England many other countries venerate St. George and celebrate a Feast Day in is honour, they include; Canada, Croatia, Portugal, Cyprus, Greece, Georgia, Serbia, Bulgaria, Romania, Bosnia, Herzegovina and the Republic of Macedonia.
Celebrations of St. George's Day may not be so obvious in modern times, but there are quintessentially English traditions which are still celebrated. One being Morris Dancing, such as the Abbots Bromley Horn Dance. Eating fish and chips and watching a Punch and Judy puppet show are considered traditional customs for St. George's Day.
There are many variations of the Legend of St. George and the Dragon. The dragon is always slain in all of the stories and the story first appeared in the 1300's. The dragon in these stories, dating from the Middle Ages, is used to represent the Devil and St. George being the manifestation of all that is good and virtuous. Good triumphs over evil! As the legend was constructed many centuries after the death of St. George it is therefore likely that many stories about him are fictitious.
One final point of interest being William Shakespeare may well have been born on 23rd of April 1564. He was certainly baptised on 26th April of that same year. His death is recorded as being in Stratford-Upon-Avon on 23rd April 1616 when he was aged 52 years. His final resting place being the Church of the Holy Trinity, in Stratford. UNESCO have marked this historic date by declaring it as the 'International Day of the Book'. So, both St. George's Day and the birthday/death day of Shakespeare are celebrated on 23rd April each year.
---
April 6th 2020
Well readers, here we are on line which is a new experience for me!
Like all of you, I am on lockdown, and at time of writing into my 4th week, having started 7 days before it became general. Due to my being at the Cheltenham Festival for a week previously I thought it prudent to take no chances in case I had picked anything up!
This terrible Coronavirus has knocked Brexit into a cocked hat, it never gets a mention anymore. Now the headlines feature the idiots (like the Scottish Health Minister)l who flout the instructions to stay indoors and still go wandering about in groups, having barbies and parties, either being convinced they are immune, or they just don't give a damn whether they spread it or not. As time has passed it has proved that not only us older people are vulnerable, it can attack people of any age, and puts extra strain on the resources of the Health Service.
With our Summer plans now put on hold as the virus takes control of our lives, all the Workplaces, Pubs, Clubs, Parks and even Churches are now closed, we only go out for food and necessary supplies, which has resulted in the needy being robbed by the greedy. Those selfish shoppers who emptied the shelves by stockpiling not only food but soap, and sanitiser etc. Which makes one think "What did they used to do before Covid19, not wash?" Even all the toilet rolls had been bought up. If they needed that many Bog Rolls I would think that the Coronavirus is the least of their worries!
Now the Supermarkets are controlling sales to limit how much a person can buy in one shop, so they probably go from store to store, but at least it makes it a bit more difficult for the B******s.!
On the other side of the coin, not only does adversity bring the worst out in people, it also brings out the best, and certainly in Rocester where I live, and I'm sure where you live too, there are the lovely people who are shopping for the sick and elderly. We have some brilliant family and friends around us, and our Granddaughter Stacey takes our order down early so she can follow the pensioners hour into the Supermarket, which still takes her a couple of hours shopping and waiting before she gets home bless her. She then drops the bags outside the door after ringing the bell. Sandra wearing gloves collects them leaving the bags on the floor and taking each item out and sanatising the boxes as she goes. Its become an art, but we take no chances. If anyone is interested Edmonstons the butchers has a great film on facebook which shows off their wares, which they will then deliver. We used them a week ago to buy our meat, pies, and eggs and were extremely pleased with the service we received and the quality of the goods. They have other produce on offer and well worth a try if you are housebound!
The only good thing to come out of Covid19? We've had an extension to our free television licence!
Uttoxeter Rugby Football Club have been crowned Champions and promoted to Midlands 2 West North, despite the season being cut short, which is great news.
With all Denstone Players and British Legion activities being put on hold there's nothing to report in those directions, and although I am wishing for some inspiration to write another play, as yet I am struggling. The Rev. Liz Jones provides us with a Service on line on a Sunday Morning, which is excellent, and St. Michaels provides lots of other interesting activities for those feeling board watching National Tele. I watched 'The Great Escape' on Netflix the other day, great film but a bit near our situation at the moment!
Thanks for reading folks, hope I've not been too much of a bore.
TTFN Les...
With time on my hands, I've put pen to paper and composed a poem to cover the current situation the world is in a present:
Coronavirus Poem
by Les Humphries
Went to a Supermarket - to do my weekly shop,
But the shelves had all been emptied, by a brain dead greedy lot.
All cans, butter, milk alike, were spirited away,
Do they intend to eat it all, or put it on ebay?
All toilet paper had been bought, which really was a farce,
Plus soap and sanitiser gone - nothing to wipe your.....face!
It gave to me some awful thoughts, that really were the pits,
I wished those greedy bog roll bandits went down with the .... runs
All that panic buying, puts pressure on the needy,
The minority who've had it all, were merely being greedy.
I'm of a generation, brought up on rationing,
When everyone pulled together, making best of everything.
We all appreciated, the food and drink we got.
Black Marketeers and Looters - when they got caught were shot!
There's also other people, who just won't stay at home,
Not caring if they spread disease as all around they roam.
There's people having barbies, ignoring all the facts'
I just think those clueless chumps are all a bunch of .... idiots!
Meanwhile there's all the good guys - volunteers and NHS,
The ones doing their very best to pull us through this mess.
The doctors and the nurses, our brilliant front line troops,
And people doing shopping for the isolated groups.
Despite all of the worry, that makes me feel quite skittish,
When we all clapped the NHS, I felt proud to be British.
Now poor old Boris Johnson has caught the ruddy thing,
He joined Prince Charles on the sick & he's our future King!
But as this awful virus keeps spreading through the Nation.
Let's all keep our peckers up in splendid isolation.
Keep your hands washed - sanitise & don't behave like suckers,
Then spare a thought for men like me - the miserable old F...… folk
Talk to you soon
T.T.F.N Les
---