Residents urged not to fly-tip to support waste crews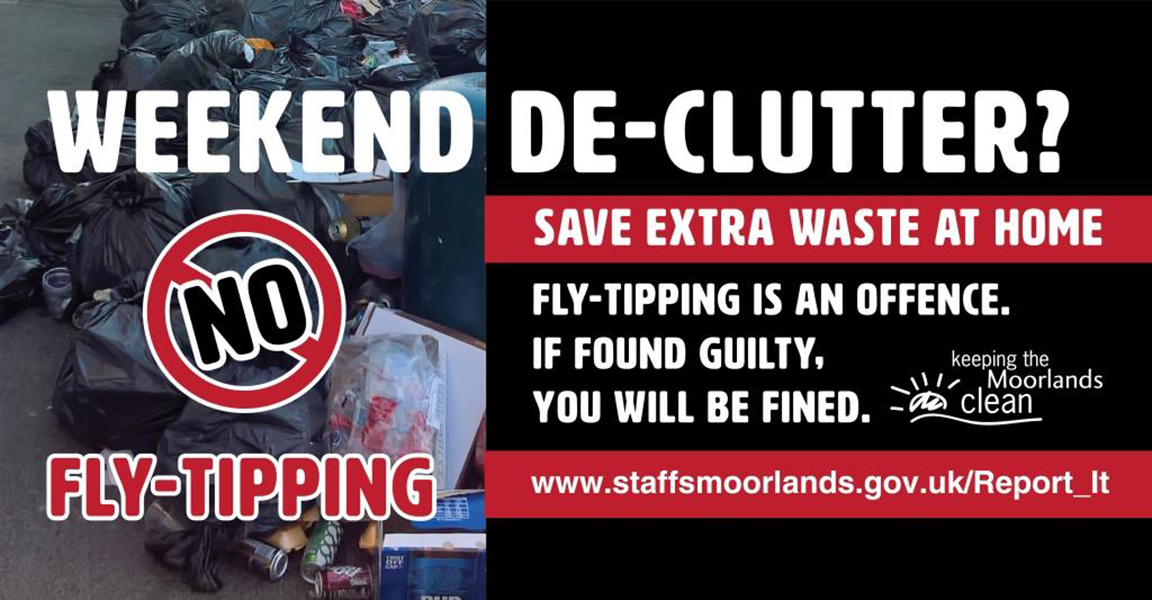 Being at home more means more time for clear-outs and tidy-ups - and possibly extra household and garden waste – so Staffordshire Moorlands District Council is reminding people to make sure they dispose of any waste responsibly.
There has been an increase in fly tipping in recent weeks which is not only irresponsible and anti-social, it's illegal and you could be prosecuted and fined up to £50,000.
Councillor Sav Scalise, Cabinet Member for the Environment, said: "Fly-tipping blights our towns and countryside and is illegal. It also puts a huge additional strain on our teams at a time when they are already under pressure.
"We know people may be using this period of being at home to get some jobs done around the house and garden. It is really important that any extra waste this creates is disposed of properly.
"That means keeping any additional waste to minimum and then either storing it until the tips re-open or, if that's not possible, using only registered waste disposal carriers."
Anyone charging to remove waste must have a licence to do so. It's important that residents use only registered waste carriers to dispose of any waste that can't go in bins or be stored. Registered carriers will dispose of your waste legally and will be able to produce a copy of their licence which can then be checked on the Environment Agency's website.
Councillor Scalise added: "Our collection crews are working extremely hard to maintain essential collection services during this challenging period for all of us and we've been heartened by the many, many messages of thanks and goodwill they've received.
"You can help show your appreciation in practical ways as well by managing the amount of waste you generate at this time and getting rid of it responsibly.
"I know that the vast majority of you are doing this and I'd like to thank you for helping us. I'd also like to pass on my thanks to the crews who are continuing to operate a full collection service – a vital service which every household in the District relies on."
You can report fly-tipping via our website www.staffsmoorlands.gov.uk/report-it