Cheadle & District Animal Welfare Society
Registered Charity 1039350
Gracie is looking for a new home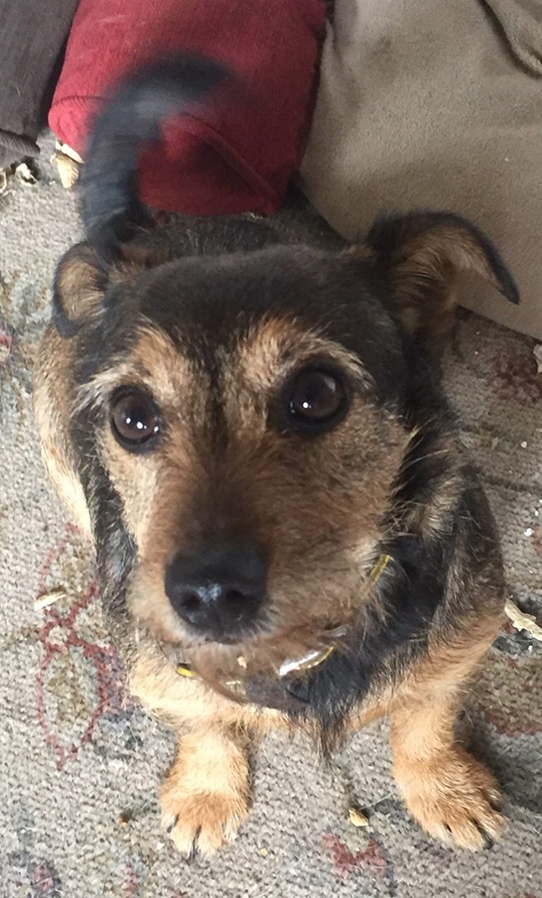 Gracie is a very pretty, tiny, rough haired Jack Russell Cross and is only 3 - 4 years old. She is currently living with her sister and another older Jack Russell but despite being with them since she was a puppy Gracie has decided that she doesn't really want to live with them any more so Cheadle Animal Welfare Society has been asked to try to find her a new home.
Her new home needs to one which is out in the country. Gracie will not be happy living in a town or in a busy street. She needs to find a quiet home with people who will be gentle with her and help her overcome her anxieties. She is a really affectionate little dog who loves to play especially with her favourite toy 'Badger' who will obviously be accompanying her to her new home. Gracie is a clever girl and learns new things quickly. She adores being able to run around in the garden and really enjoys country walks. In the evenings she will enjoy sitting with her new owner and maybe watch a bit of TV.
Gracie is so adorable, but needs to find the right home where she will be happy and it must have a safe garden so that she can do lots of running around.
If you would like more information or think you could offer Gracie her perfect forever home please ring 07731 616 025.
---
Introducing Sweet Pea

It was a sunny afternoon when a shadow appeared on the side door of Lime Trees Veterinary Hospital, Meir Park. This shadow wasn't a human, so investigation was necessary. Outside was a skinny looking black and white cat who looked terrified. Trying not to scare the cat, one of the nurses tried to get it to come closer by enticing it with food - the poor thing was ravenous and soon approached to wolf down the food. On closer inspection, it wasn't only skinny and starving but its fur was also very thin and dirty.
The next thing to do was to get the cat into the surgery. No problem. By shaking the food bowl the cat walked towards the doorway and literally followed the nurse and just walked into the consulting room. It was thought to be an older cat as its teeth were not in a very good state.
The cat was called Sweet Pea by the nurses and a post was put on Facebook, but no-one recognised her. Sweet Pea was cared for at Lime Trees Veterinary hospital for a further 7 days waiting for someone to come forward to claim her, but no one did. The staff at the hospital wanted to help this little lady so they checked her over, did a blood test to ensure her thyroid gland wasn't causing problems and gave her a dental to make her more comfortable. Thankfully her blood test revealed no problems, but she was clearly very malnourished.
Sweet Pea has now been at the hospital for over 3 weeks and has stolen the hearts of the vets, nurses and receptionists. She is so affectionate and loving and seems so grateful that they have looked after her.
Sweet Pea is now being cared for by Cheadle Animal Welfare Society and is looking for her forever home. Anyone interested in adopting Sweet Pea should ring 01335 390369 to register an interest.
Anyone wishing to send a donation to help us care for all the dogs and cats in our care can do so via Paypal, or by sending a cheque to the address given on our website – www.cheadleanimalwelfare.org.uk or via Give as You Live donate.giveasyoulive.com/fundraising/difficult-times
You can also contact us on 01335 390369 or 01889 564045
---