Cheadle Mansion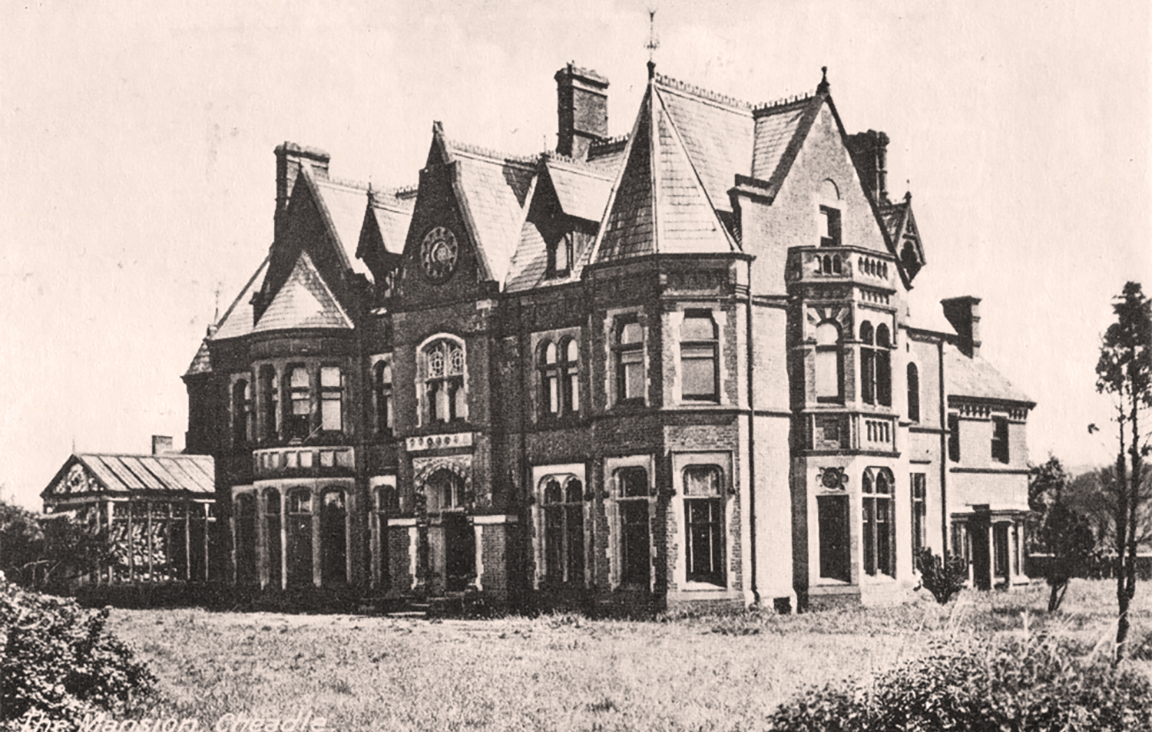 Robert Plant of Cheadle was born in 1840 to James and Hannah Plant who lived at the Back of Town (now Prince George Street), like a lot of families at that time their income came from mining coal. In 1863 after a short period of collaboration with his elder brother James, Robert took over the family colliery business which had been started by their grandfather William.
Around this time Robert moved to a property called Ebeneezer Villa on Mill Lane with his young wife Martha (nee Mellor) who he had married in 1860 and began to draw up plans for a grand house for him and his new family to live in.
Due to various business setbacks Robert wasn't able to start building his large house straight away and it in fact took him several years to complete the work. The first stage was the purchase of the land behind the Villa which was re-named Cheadle Park. A large wall with grand gates was then built around it and a tree lined drive created. Finally in 1872 work on the large house was completed and Cheadle Park Mansion was a reality.
The mansion was the venue for many special events, not least Robert's annual birthday bashes. The celebration for his 38th birthday got special mention in the Cheadle Herald which reported that "friends of Mr R. Plant of Cheadle Park, together with the Moorlands Band paid a visit to his residence to congratulate him".
After Robert and his family left Cheadle the mansion was taken over by his brother Thomas and his wife Winifred who celebrated their Golden Wedding Anniversary there in 1913. The grounds of the mansion continued to be used by the town for events such as Sunday school picnics and the mansion itself would occasionally pay host to the Men's Bible Class.
In 1912 the Parish Council expressed an interest in purchasing the Mansion and its land for the purpose of creating a town recreation ground to give children a safe place to play, rather than them "playing in holes on the street". However a deal could not be made in time and the land remained on general sale. The eventual buyer was Hannah Barker a highly respected member of the District Council and the younger sister of Robert and Thomas Plant, her purchase ensured that the grounds were not used as building land.
After she died in 1918 the grounds were sold to John Slater and his wife who turned the mansion into a series of flats. In 1919 the Council once again expressed an interest in creating a recreation ground out of the mansion's land, on this occasion a deal was made and it was purchased. The grounds then became, as it remains today, the Tean Road Recreation Ground.
The mansion was badly neglected over the years that followed, until finally in around 1978 it was sold to Staffordshire County Council who demolished it to make way for cul-de-sac of old folks bungalows. As a sign of respect the cul-de-sac is called Mansion Close but it doesn't come close to making up for destroying such a beautiful building.