Lank's Lore
by Steve 'Lank' Lavin
Golden Memories from one of Uttoxeter's Favourite Characters
September 10th 2020, Issue 100
Previous Lank's Lore articles can be found here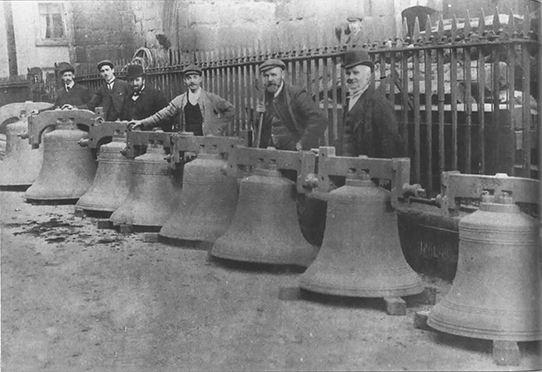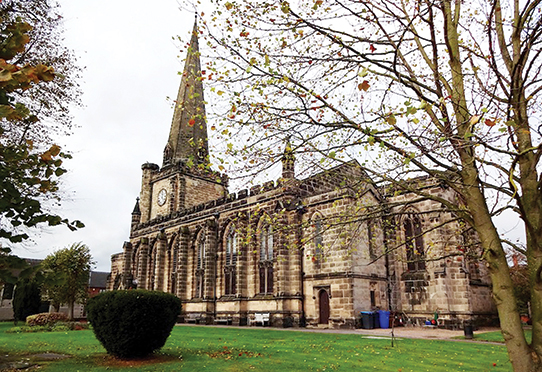 Left: St. Mary the Virgin Parish Church, Uttoxeter Right: The church bells ready for re-hanging - Oct. 1905
Well, what can I say, only my biggest congratulations to Nigel and his staff for reaching this milestone in reaching their 100th edition of this wonderful community Voice magazine.
I have in my time in the printing and publishing industry seen similar publications come and go with this being a very competitive industry and to survive you have got to be very competitive on your advertising rates and prove that your publication achieves worthwhile response results which at the end of the day pays for the production of such a project, with it being a free publication along with content which appeals to a very varied, readership.
Obviously Nigel and his staff have achieved these goals to have reached this 100th edition and again very well done.
Anyway enough of this praise and I will get on with my usual monthly ramblings.
When you have lived in one place for a very long time it is amazing how you take many of the places attractions for granted.
I have lived in Uttoxeter for close on 70 years and it was not until recently when I was visited by some in-laws of mine from Edinburgh in Scotland, that certain aspects of the town were brought to my attention
After taking them out for a meal at an eatery in the 'sticks' we returned back into town for a drink in my local boozer which is situated in the heart of Uttoxeter Market Place.
Apart from a remark by my son in law which amused me somewhat when sitting having a pint with me, saying this is a nice place but also inquiring as to when are we going into the town centre? I don't think he was very highly amused when I replied to him that he was already in it!
He also said, by gum you know some people around here stating that when he goes into town he rarely speaks to anyone as most of them are complete strangers he said that I was very lucky to live in such a very close friendly place, and that cities can be very lonely places to live.
His mother was also present with us and she also came out with statements that I have never thought of before.
One was remarking that how lovely the local church was especially the church bells playing a very melodious tune periodically apart from chiming the hour of the day, this was something that she had not encountered anywhere else she had visited.
She informed me that the tune playing by the church bells at that particular time was "The Bluebells of Scotland" which obviously being from that part of the country she recognised instantly.
I thought to myself now is the time to have a little joke with her. I informed her that I was a big friend of the local vicar who I had informed him of her visit and he had arranged that particular tune to be played especially for her to welcome her and her family to the town!
She was gob smacked at the time, singing all sorts of praises on how nice of them, what a fantastic friendly town you live in and felt really honoured by this.
I obviously could not keep up this deception for long and finally admitted that I had being having her on all along. She nearly tipped my pint over my head when I admitted that it was just a bit of fun and she eventually laughed and took it all in good part.
Still being impressed by the church bells she asked me if I knew any information about them
Knowing a little bit about the history of them I informed her that the bells were part of a set called a carillon which played a different tune every day by an automatic mechanism.
I went on to tell her that the range of tunes must surely be unique among public carillons with there being a different tune played each day.
Monday - "My lodgings is the cold, cold ground".
Tuesday - "The Last Rose of Summer".
Wednesday - "The Minstrel Boy".
Thursday - "The Postmans Knock".
Friday (the one she had heard playing) - "The Bluebells of Scotland".
Saturday - "Home Sweet Home".
and Sunday - "Psalm 108 to the tune of Hanover".
This led me into delving into my town archives to find out further information about the church and its bells.
I found out that the church was built in the 14th century. By 1828 it was deemed too small so the nave was rebuilt to designs by the architect James Trubshaw. In 1877 the present chancel was built. The chancel was designed by the architect Frederick Josias Robinson of Derby and the contract was Mr. Fryer, also of Derby. The chancel was lengthened by 14 feet (4.3 m) and on the south side over the vestry, a gallery was constructed for the organ, which had formerly been in the west gallery of the church. The east window was preserved and re-erected in the new chancel, along with its original stained glass. The church re-opened on 29 April 1877. It is a Grade II listed building.
The church tower contains 8 bells. Of these 6 date from 1729 cast by Abraham Rudhall a family business of bell founders in the city of Gloucester. The treble and tenor bells were added in 1874 cast by John Warner & Sons who had various foundries throughout the UK They were presented by George Kirk and the churchwardens at that time. A Derby firm the same year installed the carillon.
In 1905 during repairs to the tower, it was found that the oak frame from which they hung needed replacing. The photograph shown below shows the bells waiting to be re-hung from a new iron frame. The man on the right is George Cope, town crier and leader of the bell-ringers. He was a wood-turner by trade and made the wood from an old bell frame into an elaborate armchair with a carved back carved by his son Albert. In 1922, after his death, the chair was presented to the parish church.
I can remember in my time the church tower having to be partly dismantled and rebuilt owing to its deterioration and watching totally fascinated the steeplejacks at work for many months suspended many feet up precariously by just a rope relaying the bricks and pointing up the masonry and later to install many lengths of steel to support it.
I can also never forget the late Mr Frank Parker, who for many years and as long as I can remember, travelling down to the church and ascend the many stone steps to the tower everyday to wind up the mechanism that operated the carillon when he was in his 80's until eventually it was fitted with electrical devices to operate it.
The carillon today is still a prominent and melodious part of the town's life along with the local campanologists who on a Thursday night between 7-8 p.m. practice their bell ringing techniques for special occasions (not for people with delicate hearing, I stress)!!
I hope that I haven't bored you with this brief history of it and hope that you locals and visitors alike continue to enjoy such a great asset to the town and no longer take them for granted.
Till next time, Lank